School's Out For The Summer
12/05/22
We've had a relatively quiet period since the end of the season, with a lot of horses now having a break and some already headed home for their well deserved holidays. It's taken a bit longer up north for the grass to come through and the weather to warm up, but those staying here finally got turned out for the summer on Wednesday.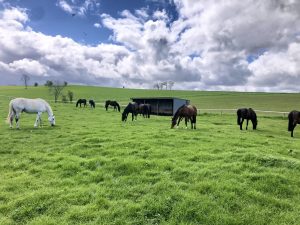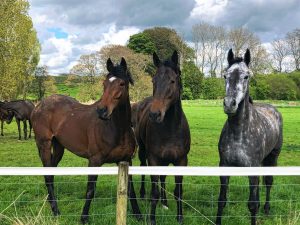 This week we're busy again with two days of Perth where we had four runners yesterday and have five runners today.
Release The Kraken was a bit disappointing, having only beaten by a nose last time out, but he did have to overcome top weight and still managed fourth place. Better Getalong ran another good race to finish second under Conor Rabbit, who also rode Rickety Gate in the last race of the day.
Today, Harry D'Arc is back after a winter break and heads out over hurdles for the first time. He's been schooling nicely at home, along with previous winners Kajaki and She's A Rocca who also run this afternoon.
On Friday evening we are at Aintree with Big Bad Bear, who will be aiming for a hat trick of wins in the 7:00 Handicap Hurdle. In the 8:10 Mares' Handicap Hurdle we have Bon Retour who hasn't been seen on a racecourse since April last year. She had a bit of a rough winter with an illness, but is back to full health now and we're hoping for a nice summer campaign with her.
On Saturday, Parisencore heads to Bangor-On-Dee, he's in good form at home and is another hoping to follow up on his win at Perth three weeks ago.
As well as having a few runners over the summer, we also focus our attention to the sales, where we aim to source some nice youngsters. Nicky will be in attendance at most of the sales over the summer:
GOFFS Spring Store Sales (Doncaster) 16th-17th May
GOFFS Spring HIT/PTP Sale (Doncaster) 18th-19th May
GOFFS Land Rover Sale (Dublin) 7th-9th June
Tattersalls Derby Sale (Fairyhouse) 22nd-23rd June
Tattersalls July Store Sale (Fairyhouse) 13th-14th July
GOFFS August Sale (Doncaster) 2-3rd August
Tatersalls August NH Sale (Fairyhouse) 16th-17th August
Over the years we have found some fantastic horses at these sales, including:
Monet's Garden
35,000gns Tattersalls Derby Sales June 2001 (earnings £683,265)
Simply Ned
€23,000 Tattersalls Ireland August Sales 2010 (earnings £363,841)
Eduard
€40,000 GOFFS Land Rover Sales 2011 (earnings £97,847 in 4 years)
Duke Of Navan
€25,000 Tattersalls Ireland August Sales 2011 (earnings £142,904)
Chidswell
€33,000 Tattersalls Ireland August Sales 2012 (earnings £107,225)
Takingrisks
€35,000 GOFFS Punchestown HIT Sale 2015 (earnings £295,986)
Beacon Edge
€12,000 GOFFS Land Rover Sales 2017
Sold for £88,000 Tattersalls Cheltenham November Sale 2018 (earnings £138,676)
If you are interested in purchasing a horse from any of these sales and intend to keep it in training with Nicky, please get in touch and he will be more than happy to assist you further. Nicky has a very good record when buying store horses which are often cheaper as they are unraced.
Greystoke is a brilliant place for the education and development of young horses, as we have a great range of facilities.