Feeling The Cold
It's sure been a cold week here in Greystoke with freezing temperatures every night. We've had frozen taps, frozen water buckets and icy roads. The horses have been kept snug and warm with extra rugs at night and an extra exercise sheet on the gallops. The effort the staff have continued to put in has been second to none and we will sure all look forward to the daffodils making an appearance and enjoying some spring weather when it arrives.
Despite a few shivering riders the horses have been kept ticking over nicely with daily canters.
We have no news on the racing front this week with abandonments up and down the country. Despite great efforts from racecourse ground staff, the temperatures have made racing impossible.
On a more positive note, temperatures look set to rise after the weekend and fingers crossed we can get back to the races next week with entries at Carlisle on Tuesday.
With a lack of racing to watch, we thought everyone might enjoy a quiz that we have put together. All correct answers (or whoever has the most right) will be put into a hat and a winner drawn to win one of our very own calendars.
Please send your answers by private message to our Nicky Richards Racing Facebook page or alternatively send them to isla_nickyrichardsracing@outlook.com
Good Luck!
We hope everyone stays safe and well and we look forward to seeing you all soon.
Quiz Time:
(Entries close Sunday 14th Feb at 7pm)
About the trainer…..
1. What year did Nicky have his first runner?
2. Name his first winner as a trainer
3.Name the horse Nicky rides out most?
4. Which is Nicky's most local racecourse?
5. What is Nicky's current winner mark for the season?
Golden Oldies…..
6. Nicky trained a treble at the Aintree festival in which year?
7. Name the 3 horses involved in that treble.
8. The French Furze was well known for running each season in Newcastle's fighting fifth hurdle, how many times did he run in it?
9. Nicky came closest to winning the gold cup in 2007 when 3rd with which horse?
10. Name the horse to finish closest for Nicky in the Grand National so far.
Current horses…..
11. My old gold is our most successful and highest rated mare in the yard, she won a listed race in fine style this season at which course?
12. Name our oldest horse currently in training?
13. How many white socks does Takingrisks have?
14. What relation are Amberose and Rubytwo?
15. Which horse has won most races so far this season?
Recently in our news…..
16. Name the newest arrival at the yard
17. In what paper did Taking Risks feature on the front and back page?
18. In Amberose and Rubytwo's race, who's jockey wore the white cap?
19. Which horse won image of the year?
20. Who is the heaviest horse on the yard?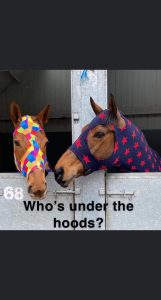 21.
22.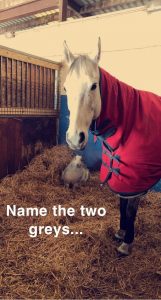 23.
24.  Name The Jockey's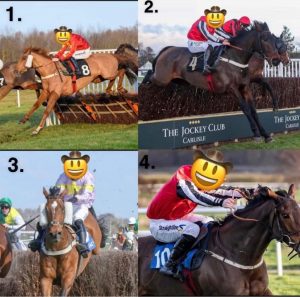 25.