Days at the Races
20/11/21
Two seconds at Wetherby on Saturday – Sauce Of Life and Caius Marcius. The race wasn't run to suit Sauce Of Life with them going very slow early on and then turning into a sprint finish. He did however jump very nicely throughout and it was a nice introduction to hurdling for him.
Caius Marcius put in another great performance and Conor Rabbitt gave him a cracking ride. He really looked to be enjoying himself all the way round – maybe the fact he wasn't carrying so much weight might have had something to do with it!
We then had a quiet couple of days on the racing front before Ayr on Tuesday.
Soft Risk defied favouritism with an easy win in the Novices' Hurdle and looks to be a nice horse in the making. He's come out of the race well and we are excited to see what his future holds.
In the last race of the day, Paddock Cottage finally got his chance to run. He ran green in the closing stages but did pick up well towards the finish to take third place. He will no doubt come on from that run and he will have learned a lot.
Our newly formed syndicate "Greystoke Owners" had their first runner on Wednesday at Hexham. Serious Ego ran a lovely race in ground that was quicker than ideal for him. He slowly picked off the other runners to finish second, resulting in a very happy group of owners – some who are experiencing racehorse ownership for the first time! It was a great day and those who attended had the opportunity to meet fellow syndicate members. There are still 5 shares of 5% available in him – feel free to get in touch if you would like to join the journey!
Thursday we went to Newcastle with Bullion Boss and Kajaki. Both horses ran well and finished fourth and third respectively. It was the first outing to a race meeting for the MS Borders Racing Club since March and they all had a fantastic day with excellent hospitality.
Two runners at Ayr on Monday – Miss Milano makes her long awaited debut in the Mares' Novices' Hurdle and Royal Arcade is in the 2mile Handicap Chase.
Entries continue throughout next week. Sedgefield on Tuesday we have Wilhelm Vonvenster and Findthetime entered, Parisencore has the option of Wetherby on Wednesday or Newcastle on Saturday. Oscar Clouds and Smokey The Bandit are entered for Doncaster Friday.
Our horses have been gleaming in their coats and have all been clipped out now. They're looking fit and well and some of our recent runners have definitely sharpened up since their runs.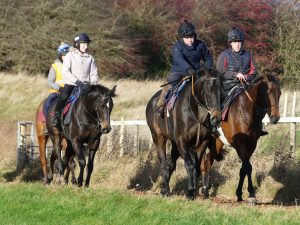 We have enjoyed spending time and catching up with various owners both at home and at the races. It's nice to have some sort of normality compared with this time last year.
Best Wishes
All at Greystoke