A Bumper Weekend
26/11/21
A relaxing weekend with no runners meant we could sit back and enjoy some top class racing from Haydock on Saturday. That won't be happening this weekend as we have plenty of runners at several tracks.
Looking back to the beginning of the week, Miss Milano was an eyecatcher in the Mares' Novices' Hurdle at Ayr on Monday. She has had a belated start to her career, but it was an encouraging debut and she was only beaten just over 3 lengths by a previous bumper winner and a horse with plenty of experience and placed efforts. She also beat an Irish point to point winner by 11 lengths so fingers crossed the form works out well and she will go on to win races of her own very soon.
After Monday's high, owners Tor Side Racing were represented by Findthetime at Sedgefield who followed up his second at Carlisle with a win in the Novices' Hurdle. It wasn't without its dramas at the start though – he's got his quirks, but thankfully he also has the ability to go with it! We would also like to say thank you to Findthetime's owners for the wonderful hamper that was sent for all the staff – it was a lovely gesture and very well received!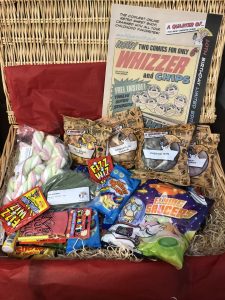 We have runners across two meetings tomorrow. Caius Marcius is at Doncaster, although it hasn't been long since his last run and he'd usually have a break over winter, whilst the ground it still on his side we will keep him going. Conor Rabbitt has kept the ride after the pair finished second last time out.
At Newcastle we have Better Getalong in the 12:20 Handicap Chase. Just over a week ago, he unseated his rider after sprawling on landing very early on. Danny kept hold of him well and no harm came to him, meaning we could enter him for the next suitable race. Hopefully he gets more luck tomorrow!
It is then the turn of Takingrisks in the Betfair Rehearsal Chase (2:05), a race he won in 2019 and finished fourth in last year after staying on well at the finish. He's been a fantastic horse who has given everyone some memorable days and we hope he does us all proud once again.
Parisencore is aiming to go one better than last time in the 2:40 Maiden Hurdle. He finished second on his hurdling debut at Kelso in October and the horse who was fifth in the race has since gone on to win.
It's been a busy week for Tor Side Racing, as they also have Universal Folly and Big Bad Bear running at Carlisle on Sunday. Folly won here at the end of October and Big Bad Bear is having his first run of the season. We hope both horses can carry on the run of good performances for their owners. It seems quite fitting that their mare "My Old Gold" is the cover girl for Sunday's racecard.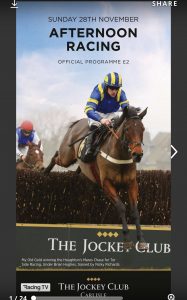 Everyday Champagne runs in the 1:15 Novice Hurdle and should show some improvement off the back of his hurdles debut here last month. Court Dreaming (AKA Colin) returns to take his chance in the 2:50 Handicap Chase he's dropped in the weights a little bit so hopefully that'll help him. He takes on a few more runners than he faced last time!
Summergrounds makes his reappearance since finishing second in his bumper May. There has been some form come from that bumper with the winner of the race finishing third under a penalty in another bumper at Carlisle. The two horses who finished eighth and ninth in Summergrounds' bumper have been placed in hurdle races this month, one of them being the race won by Soft Risk at Ayr.
We have plenty of entries at Ayr on Monday – but, and I know we sound like a broken record, we do need some rain!
Uncle Alastair will be aiming to make his long awaited come back, having made a brief return in March – his first run since 2018. Famous Bridge, who finished second on his hurdle debut at Carlisle, is entered in the 1:40 Novices' Hurdle along with Release The Kraken.
Mayo Star and Smokey The Bandit have entries in the 2:10 Handicap Hurdle which is followed by the 2mile Novices' Hurdle where Nells Son and Sauce Of Life are entered.
The last race of the day will be the bumper in which three horses are entered for their first ever runs – Hard Iron, Gege Ville and River Meadow. We are looking forward to getting the careers underway, if not Monday then in the near future.
Enjoy the racing!
Best Wishes
All at Greystoke