Snowy Days
10/12/21
15 sleeps to go…..
Kelso on Sunday we had three runners. Snowy Clouds travelled well throughout the race but just missed two out and didn't quite pick up again in the softer ground.
Court Dreaming was disappointing and Danny said he didn't travel and wasn't taking him in to the fences. The ground maybe didn't suit him but we will try him back over hurdles to see if that helps him enjoy his racing again.
Chidswell, now 12, ran well in the Borders National to finish sixth. The race took quite a lot out of him and he was quiet for a few days but he seems well in himself again now.
Monday was a better day with Big Bad Bear and Universal Folly running well and finishing third and second respectively.
Unfortunately Holme Abbey didn't appear to see the first jump in his race and tumbled over it, sending Danny flying over his head and subsequently broke his collar bone. Get well soon Danny, we miss you!
Storm Barra came in on Tuesday, but we managed to get three lots up the gallop without being blown away!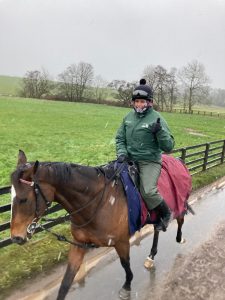 We only had the one runner at Newcastle on Thursday and that was the talented Crystal Glory who has maintained his unbeaten run with another win.
Today Home Fire heads to Doncaster for his first run of the season. He finished second over hurdles twice in July and we'll see how he goes now he's moved into handicaps.
We're at Carlisle on Sunday with Uncle Alastair and Glittering Love. Glitter will be blinkered for the first time so hopefully they will help get his sparkle back.
A quiet week next week with not much racing up north for us. We should have a few runners around the Christmas/New Year period though. As a Christmas treat, whoever is leading the 5 to follow table after racing on 29th December 2021 will receive one of our calendars which we are currently working on. For anyone interested in purchasing one, please get in touch so we ensure we order the right amount. They are usually around £12.50 +p&p and can be payable via cheque or bank transfer. Price to be confirmed when ordered. They should be available in the next couple of weeks.
This weeks video to get you in the festive spirit:
Best Wishes
All at Greystoke