Looking Ahead to Spring
28/01/22
The longest month of the year (or at least it seems to be!) is nearly done. Soft Risk provided us and owner James Westoll with our last winner of 2021 and our first winner of 2022!
There is a lovely article about him on At The Races. Read Here.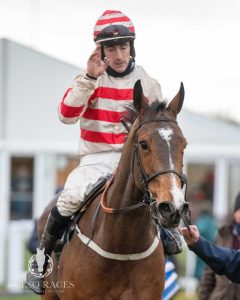 The entry list is beginning to build up again, there's not been too many races up the north since the New Year and we have taken some time to freshen the horses up. A lot of them ran a few times in November/December and maybe had harder races than we initially thought. Ayr and Carlisle return again soon and we'll expect to have a good handful of runners at those meetings.
On Friday at Doncaster we have She's A Rocca and Court Dreaming running. She's A Rocca has been disappointing since winning her bumper on her first start in 2019, but she is only seven, and has been given some time since her last runs. Court Dreaming is blinkered for the first time in hope that will get him jumping and travelling a bit better.
Weekend runners at Doncaster and Sedgefield. Headscarf Lil heads to Doncaster on Saturday; she has won twice this season and is progressing nicely. Caius Marcius and Kajaki both declared for Sunday at Sedgefield.
Holme Abbey is entered back over hurdles at Newcastle on Tuesday after he fell over fences at Musselburgh last time out. Also entered is Marown and River Meadow, who will be having his first start over hurdles. Rubytwo and Smokey The Bandit also have entries.
At home we have been enjoying the warmer weather (abnormally warm for January!). We have been working away with some young horses that were purchased early last summer, they can be seen in action via the video at the bottom of the page.
There are a few still for sale and they will be coming back into training after their winter break soon. View Here.
If you are interested in having a horse in training with us, looking to purchase a young store horse or wanting to find out more about our ownership opportunities, don't hesitate to contact us to discuss options.
There is 15% left in Serious Ego (each share is 5%) and given the length left of this season, we are willing to offer the remaining shares at a reduced cost of £1250 each, which will cover costs until July 2022. From 1st August, the second year will be £1500. Contact isla@nickyrichardsracing.com or give us a call on 017684 83392 if you are interested or would like further information.
Video: