Another Emotional Week
14/03/22
Last weeks title was "The Ups and Downs of Racing" and we had another week enduring these emotions once again.
Just over a week ago we were celebrating a treble; with Nells Son winning the Grade 2 Premier Hurdle at Kelso, then Universal Folly winning at Doncaster, followed by Famous Bridge taking a Class 2 Handicap all in under an hour! It was a fantastic day for everyone and great to see our horses back to form.
Then sadly on Sunday we lost the amazing Chidswell, a former winner of the Grimthorpe Chase. He was like part of the furniture here at Greystoke and loved his job, he was full of character and his presence around the yard is noticeably missing.
We picked ourselves up and saddled a few runners at Newcastle on Tuesday. Smokey The Bandit bagged himself another second place in the first division of the Novice Handicap Hurdle and in the second division, Everyday Champagne was travelling nicely when making a bad mistake and nearly falling 4 hurdles from home, he did well to keep going and managed to stay on for third place.
We headed to Carlisle on Thursday with five runners, but sadly only returned with four after tragically losing Royal Arcade. He was one of the favourites amongst the yard and he'll be sorely missed, especially by Jess and Ellie who, between them, had ridden and looked after him this season and adored him. Days like these are by far the worst part of the job.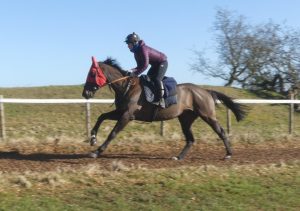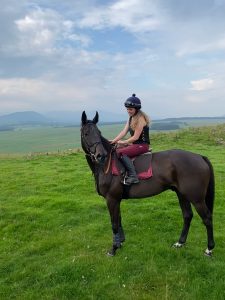 We had to pick ourselves up once again and carry on for the sake of our other horses, and the following day both Big Bad Bear and She's A Rocca won for the first time this season. Jess has done pretty much everything with She's A Rocca this year and her hard work and dedication has paid off, hopefully it helped lift spirits after the previous day.
Tomorrow we have Miss Milano running in the 1:15 Mares' Novice Hurdle at Sedgefield. No pressure for her, but the last three outings for her colours have all been on winners! We have a few entries for Friday at Doncaster and then a busier weekend with Newcastle and Carlisle. We will update you all later in the week when runners are confirmed.
It's the Eve of Cheltenham and tomorrow Danny McMenamin has a ride in the Champion Hurdle – just days after being cleared to ride following a fall just under a fortnight ago. He had a winner at Ayr on Saturday and we wish him luck for the big one tomorrow!
Here's hoping it's a festival full of excitement and that all horses and jockeys come home safe.
If you haven't already seen our video showing a brief insight into what happens each day, you can watch below. Please note this is a 7hr day condensed into 7mins!