OPPORTUNITY FOR RACEHORSE OWNERSHIP
NEW CHANCE TO OWN A NICKY RICHARDS' TRAINED RACEHORSE
Nicky Richards, one of the UK's top horse trainers, is launching an exciting new venture. He is now offering the chance to buy into superb racehorses through Greystoke Racing, a limited members' syndicate, beginning with proven winner Serious Ego.
Penrith-based Nicky Richards decided to create the opportunity because he wants to help more people get involved with the thrills of racehorse ownership, without the full initial costs or daily commitments of training.
We need the younger generation and people from all walks of life to feel the pride and passion involved in owning a horse. By offering a limited number of chances to own a horse, we are opening the door for more to enjoy it, without the pressures of training and looking after a racehorse. It'll be the thrill of your life to be an owner of a superb horse.
The Nicky Richards racing club is managed by Tom Hurst OBE. It will create a limited membership of up to 20 people, with the aim of introducing new horses in the future to add to the syndicate. Serious Ego will be raced once a month across the season.
Serious Ego is an excellent eight-year-old. The horse is a consistent competitor, who has won in the past and Nicky Richards believes will win again. He is a mudlark, ideal for winter conditions.
The syndicate will be for an initial two years, to be reviewed at the end of the second year. It will cost £1900 a year for a five per cent share of Serious Ego, to include all training costs. All prize money will be shared at the end of each year to members, based on their percentage share ownership.
Tom Hurst, who has been involved in race horse ownership for a number of years, and has a career in foreign investment into the U K, will also organise regular stable visits to Nicky Richards Racehorses in Penrith, update members on Serious Ego's performance each month, and owners will get a badge to attend races when Serious Ego runs.
Serious Ego is trained by Nicky Richards, who has an impressive record of more than 800 winners and £5 million in prize money. These include winners at the Scottish Grand National, Aintree, Ascot, Cheltenham, Leopardstown and all major handicaps in the north of England. Big names over the years include Taking Risks, Simply Ned, Guitar Pete, Monet's Garden, Noble Alan, Glingerburn, Faasel, The French Furze and Turpin Green.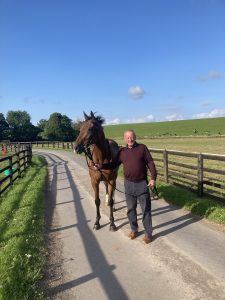 Nicky Richards worked with his father, the famous Gordon Richards, before taking over the Penrith-based stables in 1998. He has over 50 high quality horses and 30 staff.
Nicky Richards' aim is to buy quality horses with the potential to be high class. He said: "You either want to train quality or train numbers – I'm all for training to be the best."
Tom Hurst said: "We're limiting the numbers for buying into Serious Ego because we want every member to really benefit from getting involved. We'll bring the same high quality on which Nicky Richards has built his reputation to the experience our members will enjoy in owning Serious Ego."